Auto Transport & Car Shipping Quotes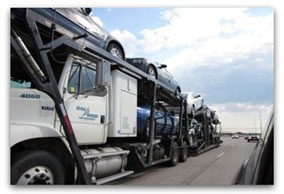 Getting auto transport quotes is the perfect way to determine which car transport services you can afford on your budget and whether or not you can save money on this pertinent service. After all, it pays to shop around and America's Auto Movers knows it. Get a vehicle shipping quote from a few different car shipping companies to determine where you can get the best value for your money. You can compare and contrast the cost of various services, depending on who is offering you the best bang for your buck.
Get Auto Shipping Quotes With Our Easy To Use Quote Generator
The best part about getting vehicle transport quotes is that it takes only minutes to fill out our easy, free to use car shipping quote form to get a slew of auto transport quotes instantly. You can peruse quotes from national companies as well as those located directly in your area. Then, you can look through each of the free vehicle shipping quotes to determine which company has the services to best fit your needs and then make the call from that point. This saves time that you could spend preparing for your move or conducting other tasks ahead of shipping your vehicle. It all starts with a free auto transport quote to figure out which company is the best fit for your needs.
The best part about allowing America's Auto Movers to provide you with an auto shipping quote is that you will get customized packages from reputable companies that meet the standards and regulations set forth by the Federal Motor Carrier Safety Administration (FMCSA). This means that the companies from which you get by your free auto transport rates are qualified to properly move your vehicle from one point to the next.
Once you receive a free auto shipping quote, then make sure to communicate exactly what you need to the shipping company that you choose for your needs. You might also let the company in question know that you are shopping around to various companies to see if they can offer an even more competitive rate for you. America's Auto Movers wants to ensure that you get the very best value for your dollars. Therefore, we try to provide you with a wide range of free car moving quotes to ensure that there are a few that meet your financial needs. Moreover, we try to arrange the quotes so that if you need special concessions, you can see automatically the cost you may incur as a result.
In fact, this is the benefit of multiple car shipping quotes. You have choice and you can determine which company has the services for which you are looking, how they might meet your vehicle shipping needs and how flexible they are willing to be in terms of your budget. After all, you are the consumer that is spending your hard earned money to ship your car with the company of your choice. Finding the right one starts with a free rate quote and hopefully ends with a solid service offering that leaves you with an enhanced level of customer satisfaction that your car was moved in a timely fashion without incident.

Start by filling out the form, or call America's Auto Movers at 1 (800) 913-4661 to get your free vehicle shipping rate quote today!